UNIVERSITY OF ALBERTA


Department of
FORESTRY
Official Graduation Photo Information
for the CLASS OF 2022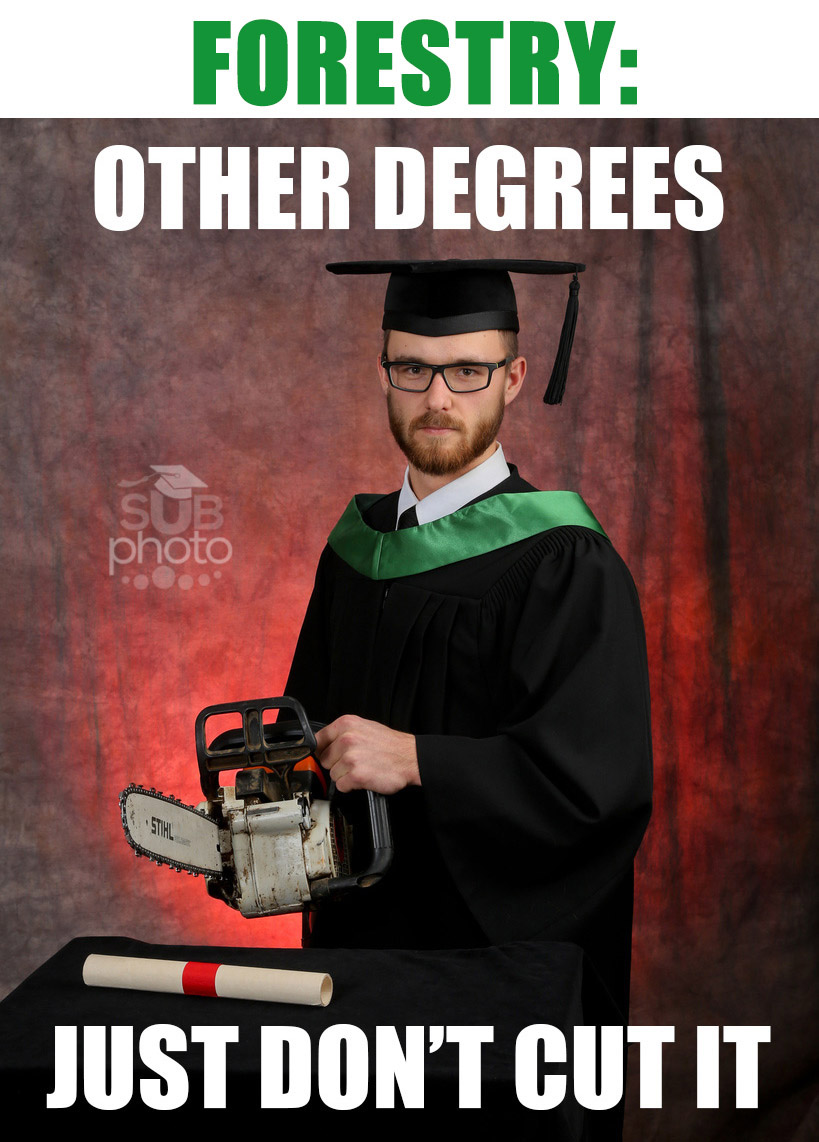 Forestry 2022 Graduation Photos
SUB Photo is proud to be the official provider of graduation photos to your class this year. Visit us to try on the grad gown, flip the tassel, and get some great photos for yourself and your family!

We are also creating the photo composite for your class. This is a long-lasting way to be recognized at your school, and being included is easy - just visit us before the deadline and you're in!

You can find more details and some previous photo composites below. Take a look, then make sure you're included in this year's edition by visiting us soon!
Appointment Calendar:
Click below to book your photo session at SUB Photo, located on campus at the University of Alberta.

BOOK YOUR PHOTOS
Click Here
Session Details:
Learn more about photo sessions available at our studio, including prices and tips on how to get ready!

SESSION DETAILS
Click Here
When is best? We encourage everyone to have photos taken during their last semester on campus. It's best to schedule your appointment before your exams so you aren't too stressed out on photo day, but we're available afterwards too.

Officially, the graduation photo deadline for University of Alberta Forestry students is the end of the calendar year in which your graduation ceremony took place. If you cross the stage in either June or November, your photos should be taken before December 15. Again, please come earlier if at all possible!
Is it expensive? We don't want a lack of money to prevent you from being included! A photo session costs just $25, but if you can't afford that please let us know. We can arrange to take a photo of you just for the composite.
Emergency backup plan: If you missed your deadline, please get in touch with us anyway. If the composite is not yet finished we might be able to fit you in still - no promises though! We don't want you to miss out, so in any case we will include your name at the bottom. (We will get your name from the University's convocation program.)
Photo Selections: You can choose your own photo for the composite if you wish. Instructions can be found in your photo gallery at the top of the shopping cart. If you don't choose a photo yourself, we will choose a suitable one from your set and make sure you are included. Don't worry, we'll be nice!
Your Name on the Composite: All names will be verified against the official graduation list from the university, to make sure you finished your course requirements and are placed with the correct graduating class. If you commonly use a different name than your legal records show, you can share that with us when you make your Photo Selection.
Changes: Once the composite has been finalized and printed, CHANGES ARE NOT PERMITTED. This means even if your favourite photo was not used, your name is spelled incorrectly, or you've been missed entirely there's no longer a chance to fix it. Department policy prevents removing composites from the wall once they are on display, without exception.
Thankfully, we've had a very good track record to date. You also don't have to rely only on our accuracy - we will give you the opportunity to review your listing before production. Keep an eye on this page and follow our social media accounts for updates, so that when we post a proof of the composite you will be able to take a look!
PHOTO DEADLINE: March 15, 2022
Have your photos taken before this date to make sure you are included on this year's composite. Get in early to make sure you don't miss out!

Expand the section above for more details.
Forestry Class of 2021
The photo deadline has passed, and we are now collecting the photos and preparing the layout. If you were supposed to appear on this composite but did not have your photo taken yet, please contact us! We may still be able to include you.
Did we spell your name right?
Please help check that the details are correct by looking for yourself and your friends. Note that due to some COVID-related changes the graduating classes of 2020 and 2021 are being combined on to one composite.
If you notice any mistakes, missing people, or just have a comment to make please let us know! Click Here to send us a message and we will make changes before the final version is printed and put on display.
(Click to view a larger version.)