What kind of photos can I get at SUB Photo?
We offer a lot of photography services! At our studio graduation photos are the most popular of course, but we also offer professional headshots, passport photos, and family portraits. If you prefer a more natural environment, take us outside with you for outdoor portraits -- some of our photographers even specialize in weddings!
The sessions are grouped into categories below; scroll through or click the title bars to hide sections and jump to the next. If you don't see what you need just Contact Us - our goal is to create the photos you need, so let us know what you have in mind!
SHORTCUT: Click Here to book your photo appointment.
All guests will be asked to provide proof of vaccination.
To get your QR-Coded Alberta vaccination card
click here
.
For details about how your photo session is affected, see notes with the session types below or visit our
Health & Safety
page.
GRADUATION PHOTOS
This is our specialty, and we are genuinely excited to be able to capture this milestone for you! Although we are located at the University of Alberta, we are open to anyone.
If you are from another school and are concerned about having an exact match to your official school colours, please check with us first. We have a wide selection, but may need to make special arrangements in some cases.
Click the title bar to expand or collapse each section.
What's included: We will provide the graduation cap & gown for you to wear, a few props you can pose with (including a bouquet of real roses), and an online gallery of proofs from which to order.
Prints and downloads are not included, but will be available to purchase from your gallery. Your photos are typically online within a day or two of your photo session.
BASIC Grad Photo Session: $25
Classic grad photos for yourself.

A Basic Grad Session is the most common choice for students who want cap & gown portraits. You will receive a variety of poses - roughly 15 different images - including different backgrounds, props, and some "fun" poses if you wish!
Your photos will be uploaded to a password-protected gallery where you can view them and choose your favourites. Prints and downloads are not included, but will be available to purchase from your photo gallery. View more about pricing here.
ENHANCED Grad Photo Session: $35
More poses, more variety ... more fun!

Choosing the Enhanced Grad Session is for those who want to add something extra to their portrait session. You'll get everything in the Basic Session, plus another 10-15 photos to open the door to some creative ideas!
With your extra poses you could try a different outfit (professional headshots, perhaps), or add a few photos with someone significant - person or pet! A musical instrument, sports equipment, or anything that was part of your journey is welcome.
For the time being you may bring up to four family members with you to our studio. Larger groups and photos with friends are possible only with outdoor sesssions at this time.
| | |
| --- | --- |
| View photos from a typical grad session at our studio, and check out how ordering your photos will work. | |
| | |
What's included: Outdoor session fees include a longer amount of time with a photographer, use of the graduation gown and some props, and an online gallery of approximately 50 proofs (unedited photos) from which to order. Prints and downloads are not included, but will be available to purchase from your gallery when the photos are ready.
Bad weather: Outdoor sessions have a risk of being delayed by poor weather; if it is raining or very windy we may need to reschedule your session or move to an indoor location.
Gathering Restrictions: Alberta has Public Health Actions in place and the University of Alberta will be requiring visitors to be vaccinated. Families are welcome but friend groups are not allowed at this time.
U of A Campus Sessions: $149
1 Graduate, ~ 45 minutes
Explore the beautiful University of Alberta campus with us and capture some grad photos in your favourite locations. We will spend approximately 45 minutes with you, capturing photos in your cap & gown and other clothing if you wish. Bring your formal grad clothing or a favourite causal outfit - whatever makes you feel great!
This session begins at SUB Photo; you can choose to start with some photos in our studio, or we can take all your photos outdoors. Anywhere we can walk to is an option!
This session is designed for one graduate. Your family and friends are welcome, as are your pets. It's time to celebrate!
DOWNLOAD SPECIAL:
Pre-purchase downloads of all your photos: add just $199
(reg. $249)
SAVE $50!
Edmonton Outdoor Photo Sessions: $249
Grads, Couples, or Families
Want to visit the Alberta Legislature grounds? Have photos taken at your home? How about while riding the Strathcona Streetcar? With this session, any location in the Edmonton area is an option!
We will meet you at the location of your choice and spend up to 90 minutes creating and capturing your memories. We can bring a cap & gown along, but these don't have to be grad photos - this session is also perfect for couples, families, and small groups. 2 or 3 graduates can also share this session on-campus.
Please Contact Us to make arrangements for this session.
| | |
| --- | --- |
| View some photos from our outdoor sessions - get some ideas and inspiration! | |
| | |
PROFESSIONAL PORTRAITS
Professional Headshots in Edmonton can be expensive, but we have the perfect setup to capture top-quality business portraits at an affordable price. Whether you need to update your LinkedIn account, add a photo to your résumé, or dress up your online profile with a great portrait - we can help!
Click the title bar to expand or collapse this section.
PASSPORT & IDENTIFICATION PHOTOS
Click the title bar to expand or collapse this section.
PASSPORT & ID PHOTOS: $20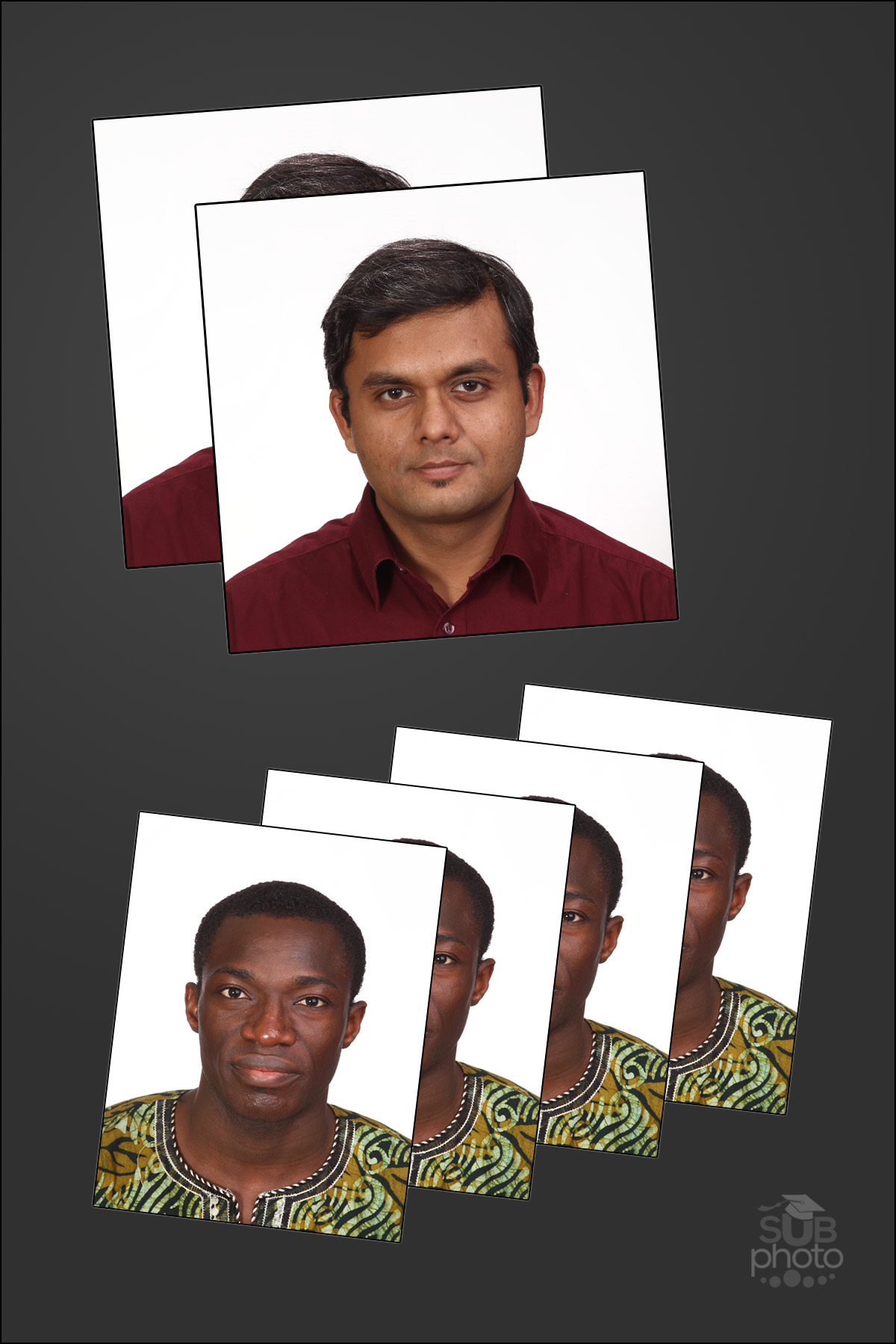 SCHOOL PHOTOS - Kindergarten to Grade 12
We are raising the bar for professional school photos! Choose your background and get downloads of your child's photo included in the session price.
Click the title bar to expand or collapse this section.
PROFESSIONAL SCHOOL PHOTOS: $49

Available from August to December only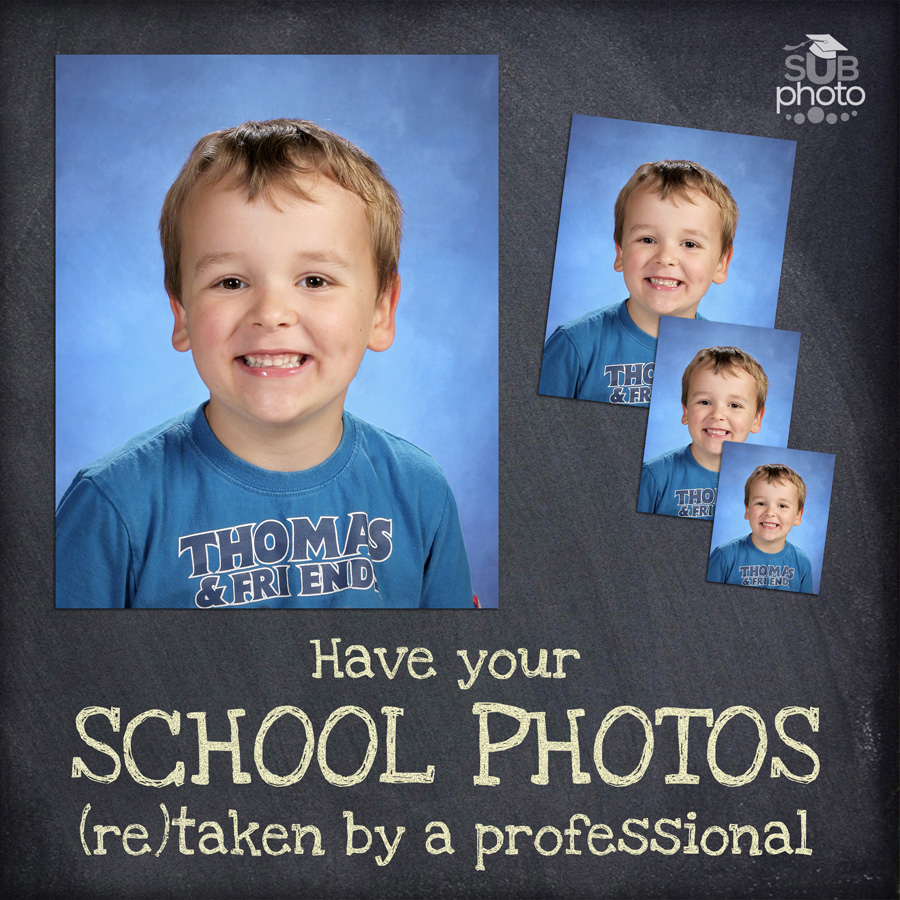 Let's get your school photo done right!
If your school photos were disappointing - or didn't happen at all - you'll definitely appreciate how much nicer it is to have photos taken by the pros in our studio!
We will take more time with your child than they could ever get at the school, and we let you view the photos as we take them so you know we've captured exactly what you want. Plus, our photographers care about the details and will take time to get them right. (Shouldn't that be the standard?)
What's Included:
Up to 10 minutes per child (vs less than a minute at school)
Live previews of photos as they are taken
Online gallery, choose your photo background
One high-quality download included; prints extra
If your child has sensitivities or needs special accommodation we can help! Please contact us in advance of your session so we can plan appropriately.
| | |
| --- | --- |
| This sample gallery lets you see the backgrounds you can choose from and package prices too. | |
| | |
Visit some of our other pages for tips on getting ready for your photos, and view our portfolio galleries (on our home page) for samples and ideas!