How do I Order My Photos?

Want to order prints, downloads, or other products? Here are the answers to our most common questions, including a walk-through of how to order your portraits step by step.

Getting Started


First of all, please make sure you either Log In or Create an Account.
To view your gallery and begin building your order, first click "Your stuff" and then "Find your photos". Enter your gallery access code.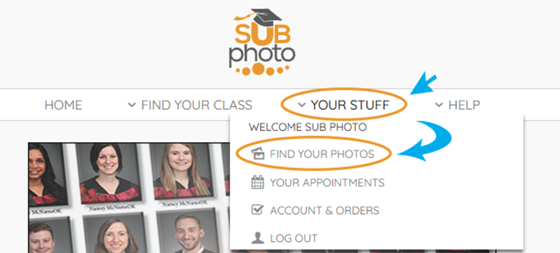 In the gallery view you will be able to look at all your photos as well as mark your favourites.
Mark the best images by clicking the Favourite icon

. Once you've chosen the best ones, you can view them in a filtered gallery by clicking "My Favourites" on the top of the window. ( Please note you can NOT order the Celebration package from the favourites gallery).

Navigating the Shopping Area

To open the Product List on your computer, click any desired photo in the gallery or click the shopping cart icon.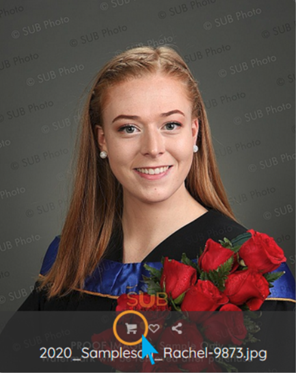 The Product List panel will appear to the right of your photo (or below on mobile). There you can browse our list of packages, digital downloads, prints, and cool stuff until you see something you like.
For more information on what is included in a Package Deals, simply click the package to view the contents, and add it to cart .

To begin filling a package click Add to Cart and you can start making your selection of sheet sizes and downloads (if applicable).


(You can also select your Yearbook / Composite Photo from this panel.)

Adding Photos to Packages
Once a package is added to your cart a pop-up will open with some information on how to proceed. Click "Continue" on the pop-up window to begin selecting your photos for the package.

Note:"# of Poses used in your package x/x" at the top of the package information will indicate how many different photos can be chosen for this package.

Keep going until all the 'Add Photo' "This package is complete"!


Do you need a few more? Once you have completed your package, you will be given the option add more prints from the same images, which will be discounted significantly from their regular price.


Viewing Your Cart and Checkout

The Shopping Cart area shows what items you've selected and includes options to: Remove items you don't want, or Empty Cart to start over entirely, and a subtotal at the bottom of the window.
When you're ready to complete your order, click "Checkout" at the top of your screen.
Billing Address: Please verify your address and other contact information.
Shipping Address: If you want your package shipped using a different name or address, please un-check the "Ship to Billing Address" box and enter the alternate information here.
Add Message to this order: This is a great place to add any comments for our retouching artists or orders department.
Coupon Code: Coupons are most often single-use coupons given in special situations. If you purchased an auction item or perhaps received a code from us, enter it here.
Shipping: Your order will typically be shipped by regular mail or parcel post using Canada Post for most deliveries. The price for delivery anywhere in Canada is the same, or you may select to have it shipped to the studio and pick it up in person.
Payment: We accept most major credit cards, debit visa, and PayPal; you can select between card or PayPal on the billing page.


What if my card isn't accepted?
On rare occasions a credit card may be declined; this is not always due to a problem with your card (but please do check that everything has been entered correctly and that your card can be used for online purchases).
If you have any trouble at all with placing an order, please contact us for order assistance by calling us at: 780-288-8002 or by email at hello@subphoto.ca and we will be happy to assist in any way we can.


Extra FAQ
Yes, we do! Shipping to many countries can be automatically calculated when you enter your shipping address at the checkout stage; but if you have any questions, please contact us and we can ensure you get your portrait delivery.

It takes on average 6-8 weeks for your order to be delivered, if you are ordering specialty products such as canvases of framed portraits it may take longer and will be shipping by parcel mail. Once the order is handed off to the courier you will get an email with the estimated delivery date and tracking information.
In a hurry? Check out our Rush Fee option in the store area. Paying this extra fee will cut the delivery time significantly but may be affected by the contents of your order.

Yes, they will. On all our printed photo products, retouching or "touch ups" are already included in the price. This means that your photo will be examined by our artist and issues like skin blemishes, shine, wrinkles and "tired eyes" will be touched up, so you look your very best. This process also includes careful colour balancing and a double-check to make sure your portraits are centered and printed just right. You can learn more on our Retouching answers page.

If you have special requests for our retouching artists, there is an area in the checkout window to add notes to your order. You could mention things you do NOT want edited, or small adjustments that you'd like to ensure are made.
For those times when you want something extra, take a look at our Enhanced Retouching option. For a small extra fee, we can work a lot of magic with Photoshop.

Rest assured; we never delete your photos! While our online galleries do expire after a few months, our photo archive is permanent. Your portraits are backed up carefully and photos taken years ago can still be retrieved. If your online gallery has expired but you'd like to see them again, please just contact us and we will do our best to help!