Want to order prints, downloads or other products? Here are the answers to our most common questions, including a walk-through of how to order your portraits step by step.
Click these links to jump to the answers:
---

How do I Order My Photos?


Summary: First, sign in or enter the gallery code. Once any photo is clicked to enlarge it, purchasing options will appear on a panel to the right, where you are free to browse the different packages and product options. Click the shopping cart icon to add a product to your order, and for any package deals, scroll to your chosen photo and click '? Add Photo' beside the product to match them up. Click "My Cart" at the top of the window to review, change, or remove items, and "Checkout" to complete your order.


Getting Started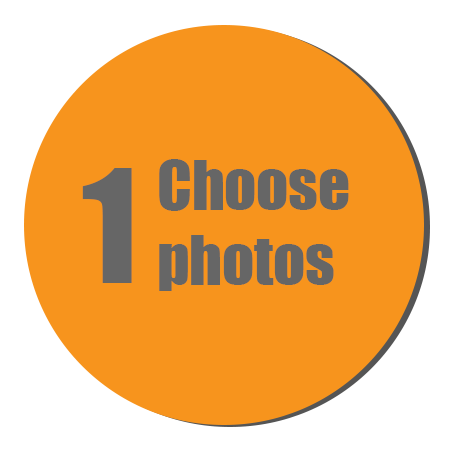 First of all, please make sure you either Log In or Create an Account to enable all the features of our website (like purchasing photos and saving your favourite images).
Now comes the fun part! Sit back and enjoy looking through your photos :-)
To enlarge a photo for better viewing on your computer, simply click the photo in the thumbnail gallery (mobile users can click the Shopping Cart icon).
On a computer or wide-screen tablet, you can click the Compare icon above two or three photos to view them all on the same screen.
Mark the best images by clicking theFavourite icon. Once you've chosen the best ones, you can view them in a filtered gallery by clicking "My Favourites" on the top of the window.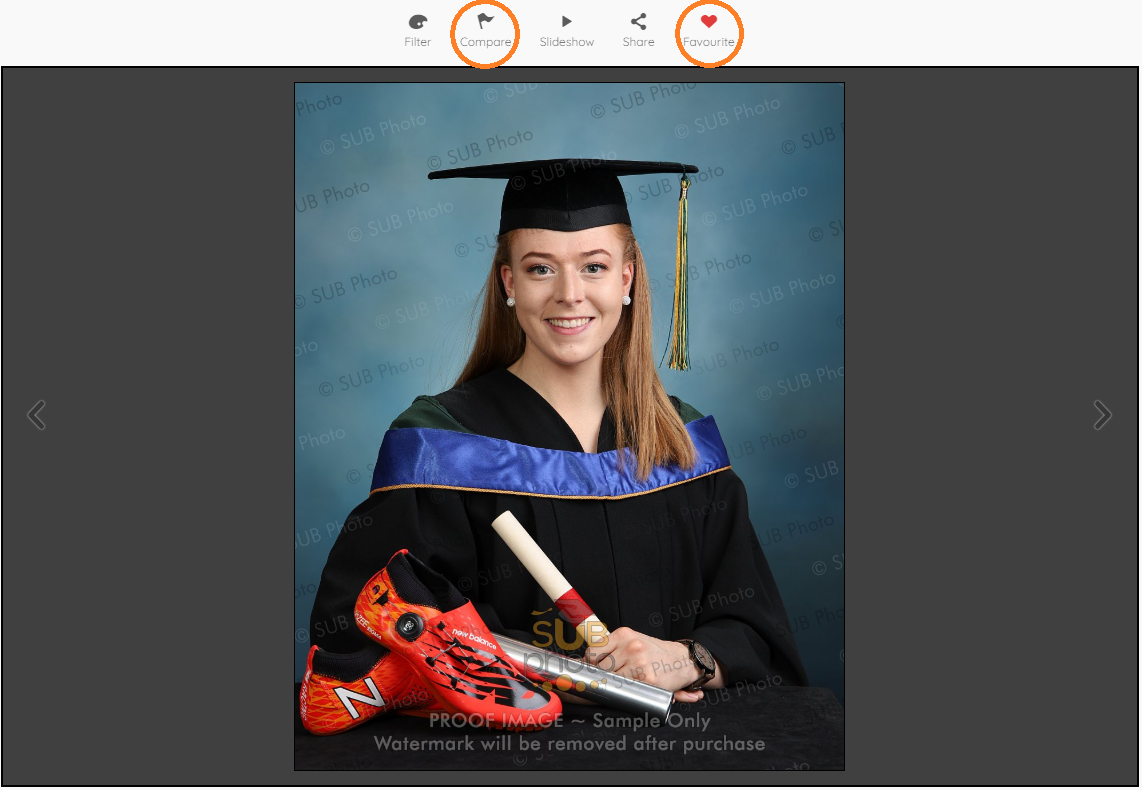 TIP: As you look through your photos, take a minute to think about your family or friends who would also like copies. Remember, they are excited about this milestone too, and may want a copy of your portrait more than you expect!

Navigating the Shopping Area

Note: You can also select your Yearbook / Composite Photo from this panel.


To add a product to your shopping cart, clickAdd to Cart and you're set!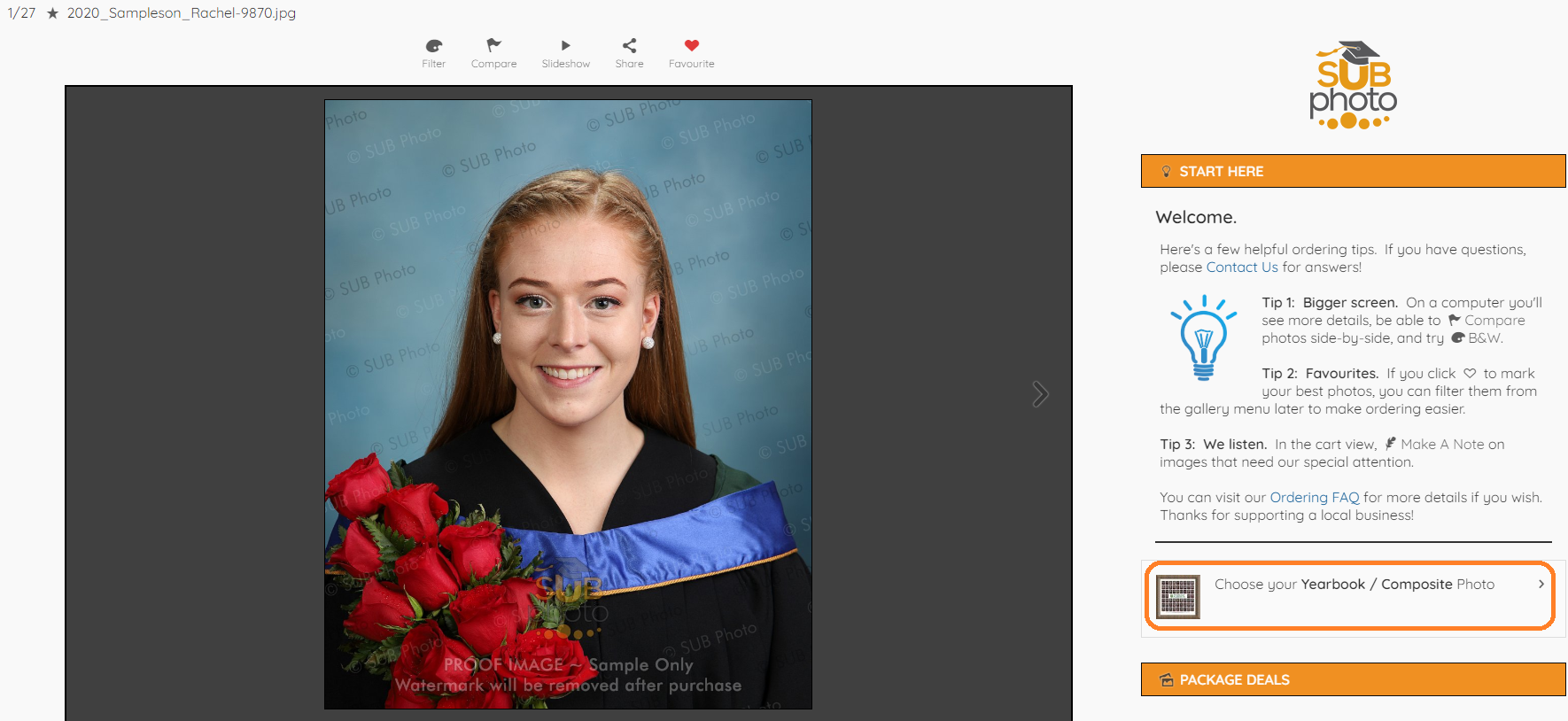 Adding Photos to Packages

Most people will start with the Package Deals, where you can choose pre-made packages that are typically less expensive than purchasing the items separately.
Once a package is added to your cart, click "Continue" on the popup window to begin selecting your photos for the package.

Note: "Poses Selected #/#" will indicate how many different photos can be chosen for this package.


Start by choosing a photo that you wish to order on the left panel. To add it to your package, scroll to one of the products on the right panel, check the options, and click 'Add Photo' beside the product to match them up!
Keep going until all the 'Add Photo' prompts are gone, and a message will show that "This package is complete"
Do you need a few more? Once you have added all products to your package, you will be given the option add more prints from the same images, which will be discounted significantly from their regular price.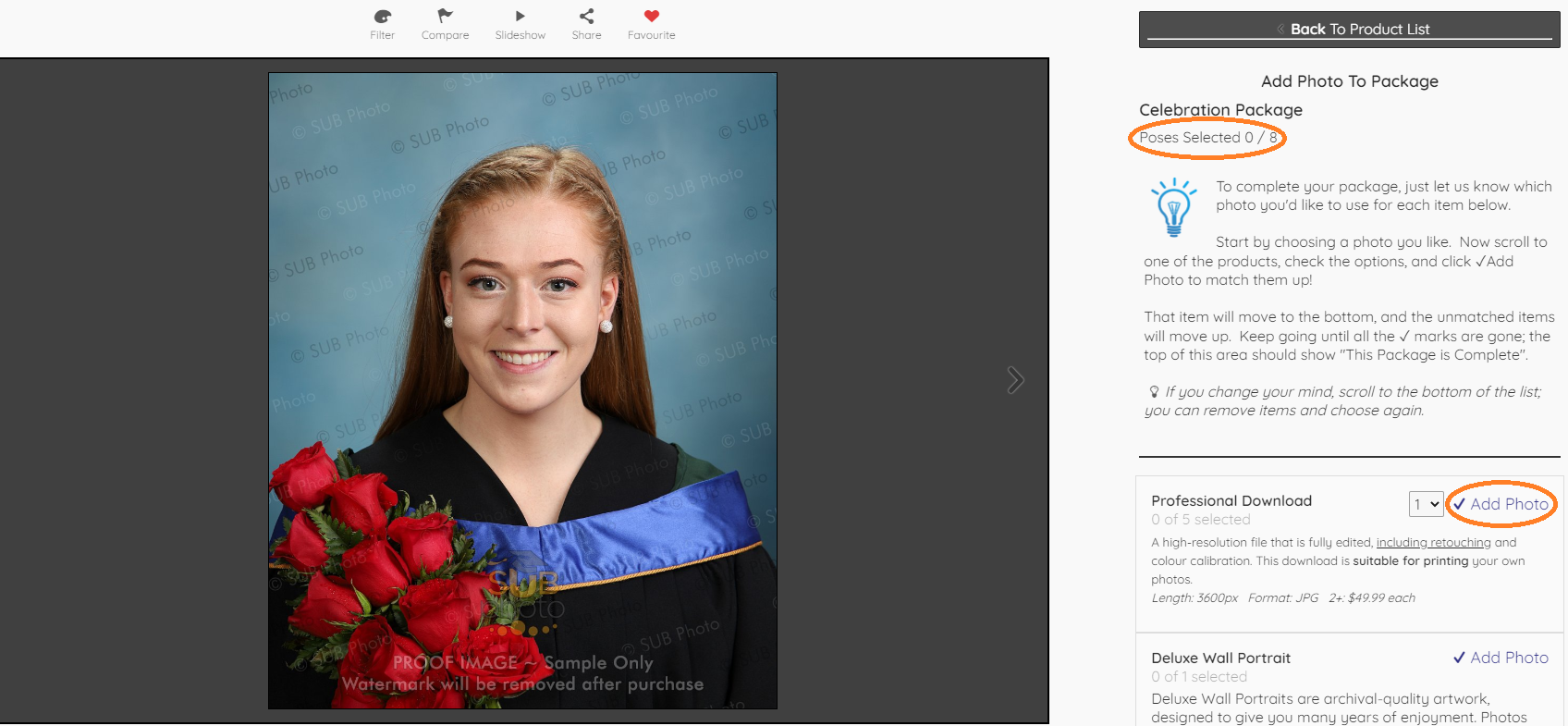 Viewing Your Cart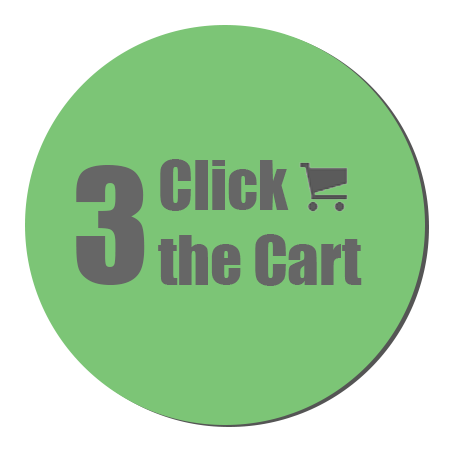 Once you've selected the items you want (or at any point along the way) you can click "View Cart" to review your order. The Shopping Cart area just shows what items you've selected and includes options to "Remove" any item you don't want, or "Empty Cart" to start over entirely. A subtotal also shows at the bottom of your screen.

Checkout and Payment
When you're ready to complete your order, click "Checkout" at the top of your screen. Here we will summarize the costs of your order, verify your address and shipping choices, and collect your payment.
Coupon Code: Coupons are most often single-use coupons given in special situations. If you purchased an auction item or perhaps received a code from us, enter it here.

Billing Address: Please verify your address and other contact information.

Shipping Address: By default, this is the same as your Billing Address. If you want your package shipped using a different name or address, please un-check the "Ship to Billing Address" box and enter the alternate information here.
Add Message to this order: This is a great place to add any comments for our retouching artists or orders department.
Shipping: Your order will typically be shipped by regular mail or parcel post. We use Canada Post for most deliveries, whether local or international. Note that the prices listed here are calculated based on both the address you provide in the previous step and the products you order. You may also choose to pick up your order from our studio at the University of Alberta.
Payment: Our payments are processed by PayPal, a trusted company with a long history of providing secure online payments. You may use your PayPal account to complete this transaction if you wish, but a PayPal account is NOT required. On their payment screen, look for a link to allow you to proceed without an account.
What if my card isn't accepted? On rare occasions a credit card may be declined by PayPal; this is not always due to a problem with your card (but please do check that all the numbers were typed correctly). PayPal has some restrictions on certain types of cards, so if you are having issues you can call or visit our studio to arrange payment. We can accept your payment through our terminal and then give you a method to complete your photo order.


Can I see your Price List?
Of course, we'd be happy to give you a preview of our prices. You can visit a full live demo gallery by entering the code DEMO1 into the "Find My Photos" box on our home page.

Ordering Offline:
If you prefer to order your photos by another method, you can also choose to order by regular mail, fax, or telephone. You can also complete your shopping cart on our website, but then visit us to make your payment. Contact us for order assistance by calling us at 780-288-8002.

If you have any trouble at all with placing an order, or you wish to pay in person for your photos, please contact us! We will be happy to assist in any way we can.

Do you ship photos to other countries?
Yes we do! Shipping to many countries can be automatically calculated when you enter your shipping address at the checkout stage; but if you have any questions please contact us and we can ensure you get your portrait delivery.

Do I need a PayPal account?
While we do use PayPal's services to process your payment, you do NOT need to create an account with them. When you enter the payment area there will be a link allowing you to proceed without setting up an account.

Will my photos be retouched or edited? What if I have a special request?
Yes they will. On all our printed photo products, retouching or "touch ups" are already included in the price. This means that your photo will be examined by our artist and issues like skin blemishes, shine, wrinkles and "tired eyes" will be touched up so you look your very best. This process also includes careful colour balancing and a double-check to make sure your portraits are centered and printed just right.
If you have special requests for our retouching artists, there is an area in the checkout window to add notes to your order. You could mention things you do NOT want edited, or small adjustments that you'd like to ensure are made.
For those times when you want something extra, take a look at our Enhanced Retouching option. For a small extra fee we can work a lot of magic with Photoshop.

How long does it take to get photos? What if I'm in a rush?
If you have chosen for us to ship your portraits, you can expect to receive your package in about 8 weeks by Canada Post. Larger photo orders (11x14" size prints and up) are usually delivered as parcels, so you may need to watch for a delivery notice if you are not always home during the day. If you chose to have photos brought in to our studio, you will receive an email or a telephone call when the package is ready for you, between 6 and 8 weeks from your order date.
In a hurry? Check out our Rush Fee option in the store area. Paying this extra fee will cut the delivery time significantly, but is subject to availability and may be affected by the contents of your order.

The photo samples look too pale (or dark); what do I do?
The most common reason for this is the screen you are viewing your portraits on; with laptops and mobile devices you can see how changing the screen brightness dramatically affects the look of your photos. When it comes to your final portraits, however, we have total confidence in our retouching artists and our lab to create a great final product. Photos are all edited for colour and brightness as part of the process; but if you are in any way unhappy with the final prints we will gladly redo them at no charge.

Can I still order more even if my gallery is gone?
Rest assured, we never delete your photos! While our online galleries do expire after a few months, our photo archive is permanent: your portraits are backed up carefully and photos taken years ago can still be retrieved. If your online gallery has expired but you'd like to see them again, please just contact us and we will set it up again.

I want something that I don't see here.
That can happen! There are more photo products on the market than we could ever highlight here - and we've produced everything from mouse pads to custom bobble heads over the years. If you have something you'd really love to make from your photos please let us know; we will do what we can to get it for you.