Great Composites Need Great Photos!
We want you to be included on the graduation photo composite with your class. The easiest way is just to Book Your Photo Session at SUB Photo. We'll make sure your photo is properly submitted.
If you can't make it to our studio, however, you may submit a photo -- as long as it meets the requirements below. A nice snapshot won't do, sorry!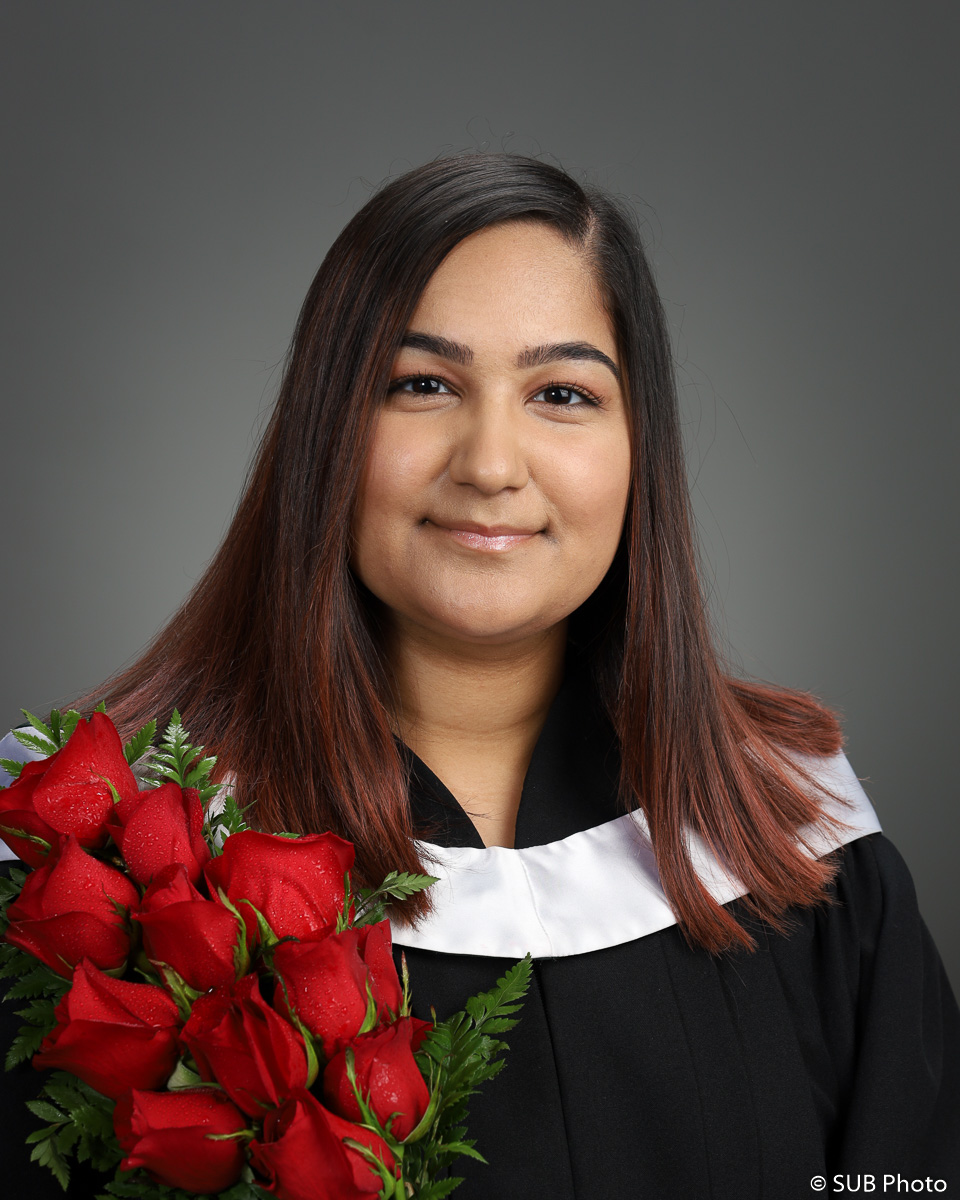 TL;DR:

☜

Give us a photo like this one.

KEY PHOTO REQUIREMENTS:
• Please, NO HAT. (Thanks.)
• Submit a professional studio portrait.
• Provide a high-quality original, not a scan or copy.
• Include permission from the photographer to use the image.
• Have a plain background (ideally grey).

TECHNICAL SPECIFICATIONS:
• Image size: 1200 x 1500 pixels or larger.
(At least 4x5" / 10x13cm at 300dpi)
• Image format: JPG
• Please zoom in and make sure your photo is in focus.
SUBMITTING:
When your photo is ready, email it to: orders@subphoto.ca
EXTRA INFO: Click to expand
The easiest guideline is to make a photo that looks like the sample image. Some technical points to watch for that may help:
Use a smooth grey background (paper or similar)
Lighting should be soft with a low highlight-to-shadow ratio
Main light placed to the right of the camera.
Focus should be sharpest on the eyes; we shoot at f/8 or f/11.
Crop with even space around top and sides of subject's head.
Subject looking at camera with a natural smile.
The submitted image must be free of watermarks.
The submitted image should NOT include a graduation cap.
We do not (yet) have affiliated photo studios outside of Alberta, but we can offer a few tips to help you search for one. Please shop carefully!
The quick-and-easy solution is to find out which company provides graduation photos to your local high school. They may have a studio available in your area and be able to book you an appointment. Make sure you ask about sending photos to us to make sure it is possible.
Search online for local photographers that specialize in graduation photos or professional headshots. (Other than the cap & gown, studio business portraits are quite similar to graduation portraits.) This not only supports a local business, but may also give you more personalized service.
Contact your local photography association to see if they can help with a referral.
Check reviews! Make sure you look at the Google reviews for any photographer you are considering before you book an appointment.
SUB Photo provides the cap and gown for portraits at our studio, but we have limited inventory so we do not loan or rent them out. If you are visiting another photographer, they may ask you to provide the grad outfit for your photo session.
The full 'academic costume' is made up of three parts: a gown, a hood or stole, and a mortarboard cap. Some schools have a set they will loan or rent to students, but many do not; unfortunately the University of Alberta does not offer rentals at this time. The official supplier for the U of A (and many other schools across Canada) is Gaspard Canada; you can rent or purchase on their website at https://www.gaspard.ca.
You may find some unofficial vendors online as well. In our experience the the price may be lower, but the quality difference is very noticeable and the results have been disappointing when photographed. (YMMV.)
Remember ... in the photo you submit to us, PLEASE DO NOT WEAR A GRAD CAP.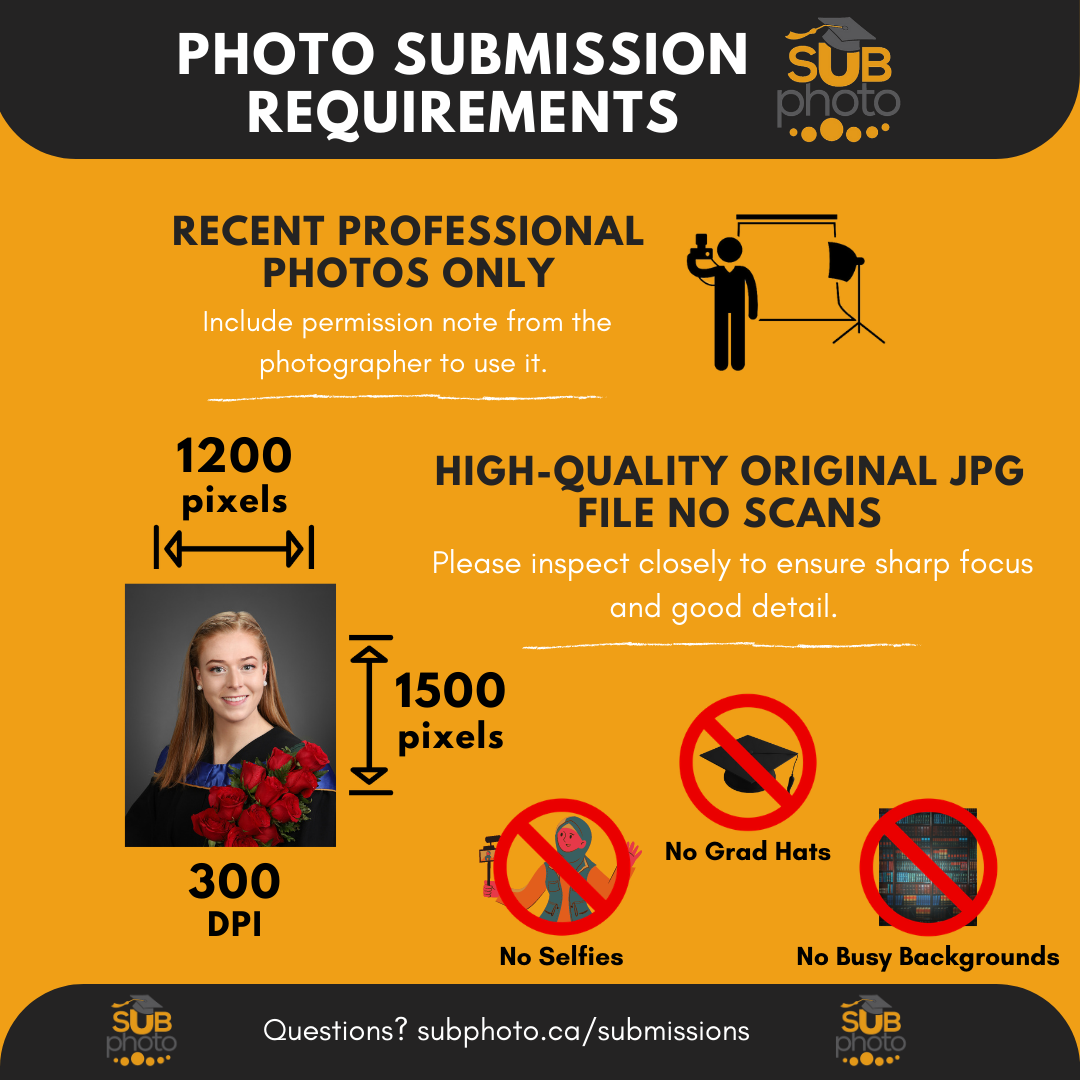 Please contact us if you have additional questions.