---
How can I download my grad photos?
This is one of our most common questions! You can download your graduation photos, professional headshots, passport or ID photos, event photos and much more from SUB Photo.
In most cases, you will find the instructions right in your photo gallery. Just click on one of your photos, or on the Shopping Cart icon, and you'll see the options in the product list. You can choose to purchase downloads individually or as part of a package, but the package offers are usually a better value.
After you've purchased a download, you can access it at any time in the future from your My Account page.
For more details, click on a heading below to open the section and find your answers:
Downloads: Frequently Asked Questions
Download size: Photos stretch, right?
Click this image to view a full size sample of our downloads. Remember that most devices will resize images to fit on the screen, so use the zoom magnifier until the image is displayed at 100% or 1:1.
As you can see, the Small Download and the Professional Download are quite different! Compare details such as the text on the stethoscope, or her earrings which are all but invisible on the smaller image.
Which one do you need?
Small Downloads for sharing
These downloads are intended for online sharing only. At 750 pixels long, they can be used to make wallet-sized prints (2.5 inches / 6.3cm) but larger photos would be a stretch.
On the other hand, these images are just about the perfect size for viewing on a phone screen! If that's enough for you, the lower price point will also be a bonus.
Professional Downloads
A 'Professional Download' is the best quality version of your photos that we offer. Not only is it a higher quality image file, but we also include photo retouching to make sure you look your best!
Your purchase includes permission to print your photos if you wish. This image file will make beautiful top-quality prints at 8x12" size or smaller; you can stretch that to almost double if you wish. If you intend to do your own photo editing or make your own printed products, then this is the download for you.
You can purchase these downloads one at a time, but for a better value you will also find them in photo packages or 'Buy All' quantity discounts.
Watermarks
Don't worry! The text overlay will be removed when you purchase a photo. We use the overlay to indicate that the photo is not ready for production yet, and of course to prevent scalywags from downloading photos without paying for them. (Who would do that!?)
Our system will in many cases provide you with a watermark-free download immediately after purchase; in cases where we are going to retouch your photo or provide other adjustments, the photo will be released for download by our staff once the work is completed.
Download Instructions:
Of course most of our downloads aren't free - but some are! Here's the details.
Free Downloads:
In some cases, photos may be free to download. This is typically from an event, such as a ceremony or fundraising event. If the gallery you are viewing has free downloads, this will be indicated in the gallery description above the photos.
If photos are free to download, a link will be provided along with the photo allowing you to download it. The link is available in several places depending on how you are viewing the gallery:
Gallery view: Mouse-over the photo you want to pop up the file name and the icon to download it, along with options to purchase prints, add the photo to your favourites, and share it to Facebook.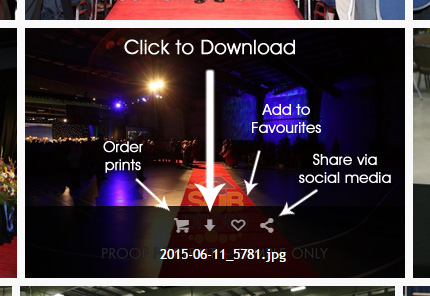 Single-Image View: Look above the photo for the photo toolbar, which uses larger icons to offer similar options to the gallery view. Note the addition of the "Filter" icon which allows you to preview your photo in Black & White or Sepia.

Mobile View: Although the website layout is a little different on mobile devices, the same options are offered. When clicking the "Download" link, you may need to tap it twice (double-tap) to activate the download. The full image will open in your browser, and you can use your device's photo saving features to add it to your picture library from there. (Try tapping the photo once, or tap and hold it for a moment to bring up your phone's photo menu. Note that a screen capture will be lower resolution than using the save feature.)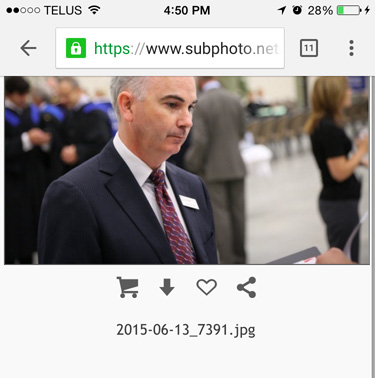 Purchased Downloads:
Most of our galleries offer a variety of download products for sale. Some photo packages include downloads, some packages allow them to be added on, and downloads can be purchased separately.
Before trying to download any files, make sure you have an account and are signed in to the website. If you don't have an account you can create one; but most clients will already have an account from when you booked your photo appointment. (If we have ever emailed you, then you have an account already.) When you are properly signed in, the top left corner of your browser window should read, "Welcome YourName".
The next step will be to make your purchase. From the shopping cart, you can order either a package containing a download, a direct download of one selected photo, or a download of multiple images. You must add the product to your cart and complete payment for your transaction before you can download the image(s).
When you finish the transaction, do not close the browser window. (If you do close the window, follow the instructions in the next section about downloading later.) After your payment has been processed you will be redirected to a transaction summary where you will see all the products you purchased. Download products will now have a "Download" link available under each image you can download; simply click this link to get the file.
In the case of products that take time to complete, such as retouched portraits, we will prepare your photographs and then contact you with instructions once your order is ready.
Downloading later:
In some cases, you will leave the website without downloading the photos, and so you will need to return at a later time to download your photos.
Doing this is simple if, again, you log in to the site. Look for the "My Account" link at the top and click it; you will then see a listing of your orders. By clicking on your order number, you will be able to review your order and also download any associated files. You can choose to download the photos individually or as a compressed .ZIP file which will contain all the photos.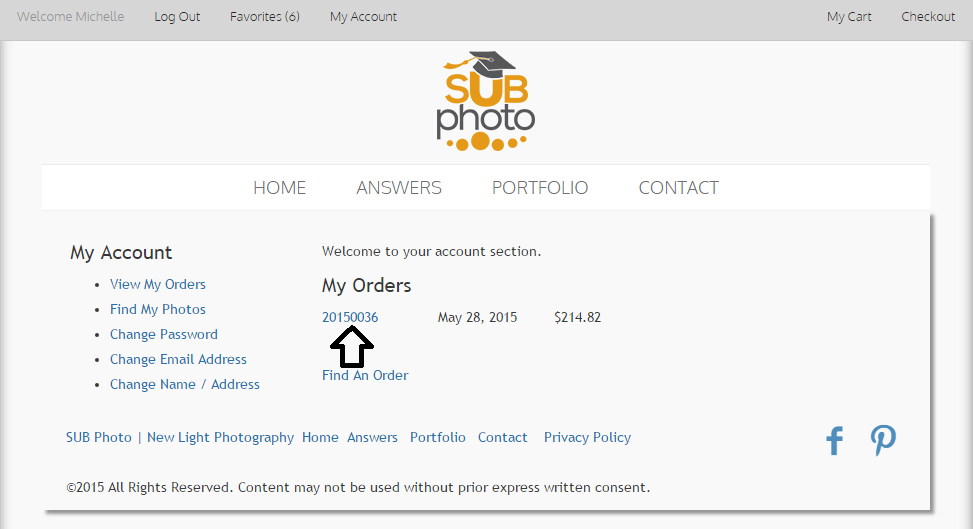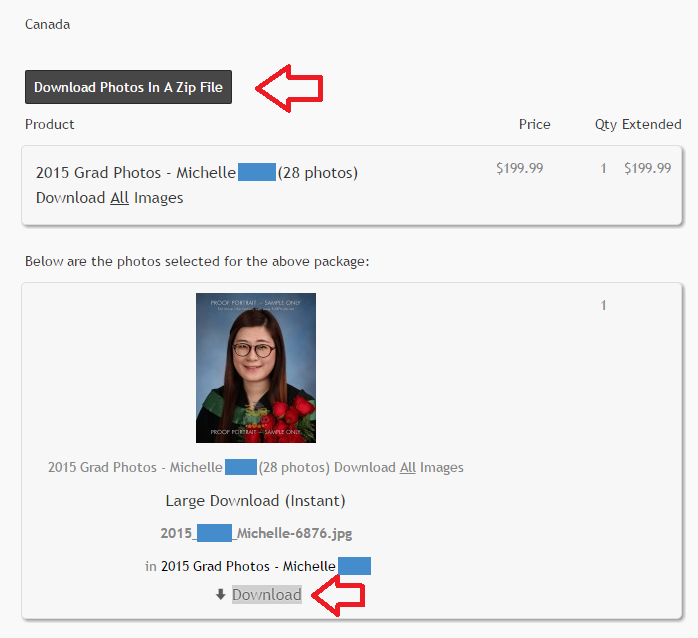 More to come: Downloading Graduation Photos Downloading Professional headshots Why so expensive? Downloading them again: old photos Retouching